Natural perfumer Christi Meshell of the House of Matriarch, has pulled out all the stops for her thirteenth ultra-natural perfume. Two years in the making, Bohemian Black pays homage to gypsies, their magick and herbal craft while staying true to its "black" inspiration, and without smelling like a hippie head shop in the process. 
Black (adj.) is defined as: very dark, having no color from the absorption of all or nearly all light. Bohemian is generally accepted as "socially unconventional person, often inspired by gypsy or rover lifestyles". If the mention of the word "black" in a perfume's name usually makes you nervous, I assure you, there is nothing to fear here. Without any vanilla, cardamom, pepper or a patchouli/sandalwood overdose, we have something as beautiful as it is dark.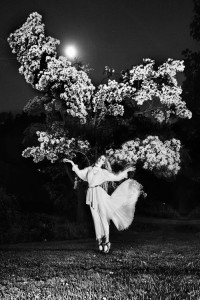 One of the reasons this House has always fascinated and delighted me was that Ms. Meshell had not only used all natural ingredients of superb quality, but each and every essence of these scents captures nuances of the original inspirations. For Bohemian Black the perfumer handcrafted limoncello spirits (lemon rind maceration), brewed her own Strega liqueur and combined three different choyas (destructive distillations based in cedar) just to get her palette together, before she even began blending. Imagine my surprise and olfactory confusion when this came at me out of the sprayer cold, citric and smooth. Bathed in the surreal glow of this cold Amalfi lemon concoction, it felt like moonlight on my skin. Before I knew what was happening, the most incredible herbal smell began to waft into my nostrils.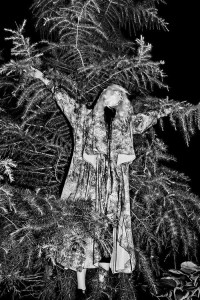 Photo: Elle Muliarchyk
The Strega,or witch liqueur, created for Bohemian Black is based on a centuries old Italian recipe. A combination of approximately 70 different herbal ingredients-mostly anise, mugwort, damiana, saffron, mint, fennel, and various witchy herbs-adds a distinctly aromatic bitterness that is equal parts medicinal and pleasurable. As these polar opposites collide the lemony frost and anisic glow create a synergy that hints at, but never quite becomes, black licorice. If you can imagine drinking equal parts grappa and absinthe in a forest at midnight, you get the general idea. The warmth of the powerful brew balances the chillier opening like shadow is balanced by light. Our cauldron is beginning to bubble and the moon is shining bright and full behind us.
Photo: Elle Muliarchyk
This interplay of opposites runs throughout the development of this perfume. After such an unexpected opening, I was doubtful the listed "honeyed white flowers" would ever truly emerge…but there they were, pushing their way to the surface and rising gently from my skin. Night-blooming jasmine and gardenia are kept on their best behavior by a slightly fruity honeysuckle and delicate tiare petals. Without trying to dominate Bohemian Black, this floral chorus adds intriguing depth and nocturnal allure without becoming too indolic or overly bombastic, despite, or perhaps because of, the drizzle of wildflower honey. Just when I thought I was beginning to make out shapes and definite forms in the darkness, the shadows shifted once again.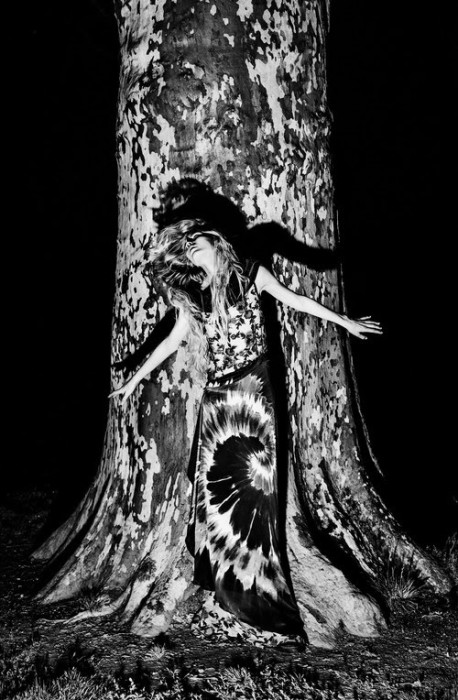 Fly by Elle Muliarchyk
In the description on their website, Bohemian Black is labeled an "enigmatic" amber perfume. Really?! I thought to myself; but, lo and behold, hours later I began to detect traces of delicate warm crumbly sweet amber joining our midnight soiree. As the heart fades into the base, cold sharp Omani frankincense melts into warm Siam benzoin creating a magnificently balanced incense note that imbues the blend of three sacred woods, oud, sandalwood and Bodhi; with a heavenly aura.
Ambar, liquid amber or styrax resin, usually smells somewhat musty and ancient, needing something to give it lift and make it come to life. In synthetic perfumery ambroxan would suffice; but, wanting something truly natural; it is here that Christi used the salty triple choya blend to make the amber truly effervesce. Imagine a light and floating amber, one that gives off a definite shine and sparkle yet has enough woody heft to anchor this complex and enchanting creation. Beguiling and bewitching,Bohemian Black shows us living proof that you can be free of the enslavement to conformity and channel beauty and inspiration to the masses…and that it's ultimately worth the cost and the effort. Sillage: slightly above average. Longevity: overnight.
Ingredients: House recipe limoncello spirits, herbal tinctures, honeyed white blossoms, (gardenia, tiare, honeysuckle, night jasmine), salty choya trio, aged noble resins, (Omani frankincense, Siam benzoin), sacred woods (Mysore Sandalwood, BuddahWood, agarwood "oud" and effervescent amber
Disclosure: Reviews based on spray sample sent to me by House of Matriarch.
Thanks to House of Matriarch we have five 3.3 mL spray samples of Bohemian Black to giveaway. Three for our US readers and two for our international readers. To be eligible leave a comment on what ingredient (s) listed in Black Boheme you would like as the centerpiece of a "strega-witch" liqueur on its own or your favororite House of Matriarch Perfume. Also remember to identify whether you are a US or International reader. Draw ends January 11, 2014.
- John Reasinger, Senior Editor and Natural Perfume Editor
Art Direction: Michelyn Camen, Editor in Chief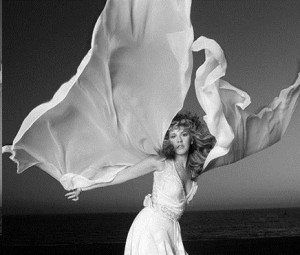 Stevie Nicks Gypsy 1979
Editor's Note: House of Matriarch was Mark and my pick for CaFleureBon's Indie House of 2013. I chose the photography of Elle Muliarchyk who created these photos for Rodarte because the images evoked a modern day Stevie Nicks. Subsequently, in a "this can't be happening" moment, I mentioned the Rodarte photos to Christi, who was silent for a second, then told me she was channeling Stevie Nicks and "Gypsy" when creating Bohemian Black.